Download printable PDF version
Clues around how best to design for your customers' problems are abundant…
…if you know where, and how to look.
Understanding your target market requires observation, in their context. I dive into the world of your customer to interpret what really matters to them, uncovering insights traditional market research can't get close to.
The right tool for the job
I carefully plan my approach to fit and deliver on the objectives of your project, answering questions and often revealing new, important areas of focus.
I'm a commercially-minded design researcher and see time spent with customers as an investment, so I take a creative approach to mixing and building on these techniques to gain the most possible insight and value to the business.
I'm biased towards using the method which gets me, (and you if possible) closer to the customers' context and the way they experience your product or service.
Visuals to engage your team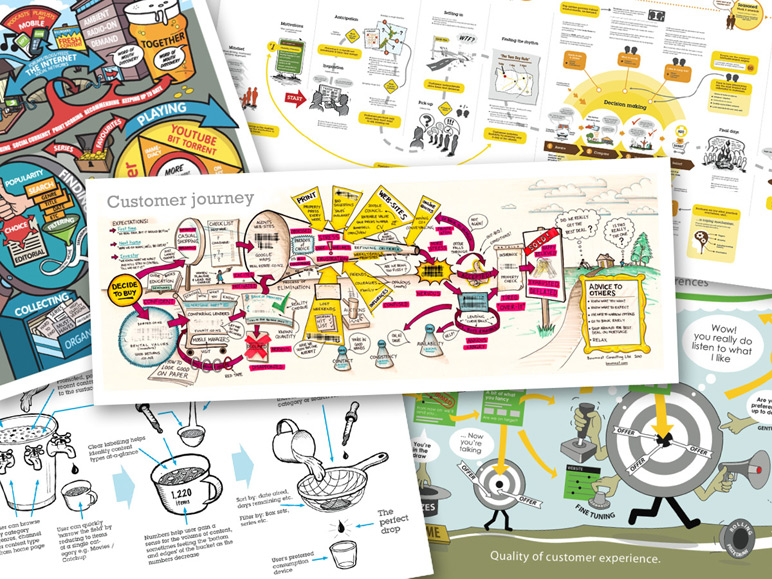 A handful of bullet-points can't possibly communicate the complexity of your customer's world, their emotions, connections and interactions with your product.
This is why I often communicate my findings with an engaging visual or 'rich picture' to convey in seconds what might otherwise be a long story.
These visuals have instant impact and start the type of conversation during which key decisions are made around the future design of a product, service, or approach to delivering it.
If you'd like to see some fuller examples of this work, just ask and I'll send you a set as a pdf.
Easy to digest – Hard to ignore
I use video storytelling to bring the customers' story to life through short documentary films, carefully edited to convey key themes emerging from each study.
Findings shared through this medium never fail to engage teams and build empathy for the customers they need to understand.