Design research & Visual storytelling
Because it's hard to design…
…for a customer you don't understand.

I believe designers and businesses miss opportunities by making assumptions about their end users.

I also believe successful brands start with their customers' problems, then look for the solution, not the other way around.

I'm a specialist independent design researcher based in New Zealand. I work with clients who want to understand people – in order to make strategic change.

My approach helps answer these questions:



While traditional market research collects opinions and listens to what people say – I go deeper into your customers' context to get to 'the why' behind how people actually behave with and think about your product, uncovering what really matters to them.

…because only when you understand what your customer needs can you design your product to add value where it counts.

---
Selected articles from Nick's UXNZ blog:
Ethno unpacked – a design researcher's toolkit.
Every minute spent with a customer is valuable, so when I'm visiting homes or workplaces during an ethnography I can't afford to be distracted by practicalities like recording equipment and timings.
I've arrived at a 'toolkit' of things in my backpack, so when I pull up at the customer's house the 'roadie' can take a back-seat and let me get on with capturing the insights:
Games people play during user research.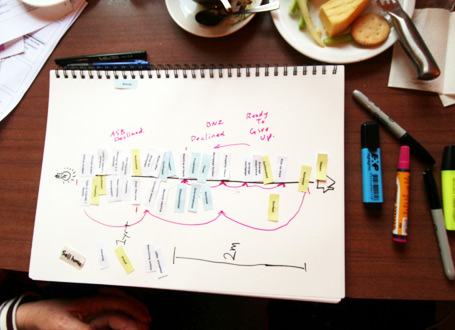 A couple of universal truths stand in the way of discovering what people actually think and do:
What people do and what people say are rarely the same.
Equally, what people think, and what they say are very different.
Annoyingly, but reliably, these rear their heads during customer interviews and ethnographic studies – the two main methods I use to gain insights from people.
It's amazing how the truth comes to the surface with some simple card games…